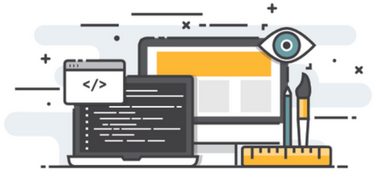 Today, every size and structure of business needs a website to meet the demands of a general public that is becoming more and more tech savvy. To meet your customers' rising expectations, that site needs to be professional-looking, easy to use and update, Google friendly, and mobile responsive.
At Creative Mindscape, our industry-leading WordPress development team builds, implements and hosts websites for companies around the globe. We custom-build websites to each organization's specific needs and provide 6 months free technical support from that date you go live.
WordPress Web Development
WordPress is the most effective platform on which to build a modern, flexible website, and then use it to deliver exceptional marketing initiatives. It is incredibly agile, cost-effective and secure.
At Creative Mindscape, we know that your website says everything about you, so we build stunning, future-proof websites that meet your exact requirements. Precisely coded with up-to-date and reliable technology, our sites have been rolled out by companies across North America and Europe. All of them are fully tested, optimized for all devices, and meet current website standards.
As part of the above, the following elements can be included in all our website development projects.
SEO

Search engine optimization is built into all our websites, using the best keyword strategy to ensure visitors find you on Google and all other major search engines. Speed is very important to Google, and a site that loads fast on both desktop and mobile significantly improves its chances of ranking highly. We optimize your website with a range of on-page and off-page SEO solutions, coding structure and security procedures. We also use best-in-class SEO plugins and Google Analytics, allowing you to monitor your website traffic with ease.

Digital Branding

First impressions mean everything when it comes to your website. After load time, branding is the second most important factor that makes people stay or leave. As such, using the right branding – logo, color schemes, fonts, and layouts – are vital to attracting your target audience. To do that, Creative Mindscape provides full design or consultancy on digital branding as you require it, uniquely created with your customer base in mind and fully reviewable by you.

Graphics and Design

There are lots of website components that can be used to engage today's online audiences, but the power of visual imagery is the best of all. It instantly gives the impression of a business that is either tech-savvy or stuck in the dark ages, basic or professional. It is particularly important to have a unique visual identity, using imagery that represents you/your customer in a positive light.

Mobile-Responsive Architecture

Arguably, one of the most important elements of modern website design is mobile responsiveness. If your website does not look right or provide a seamless visitor experience across all devices, then you will be downgraded by Google and lose a significant portion of potential customers. We build websites that are optimized to work across all devices and browsers.

Content and Social Integration

Your website should be your gateway to the world. It is the powerhouse of all your marketing efforts, to generate leads and convert them into customers. As such, Creative Mindscape builds websites that are ready-made to execute industry-leading content marketing and social media integration. Our clients' websites are among the top-ranked sites in the world within their specific industries, because they have the content and social framework to amplify brand awareness, expertise and trust in the market.

Ongoing Maintenance

Whether you need a new website or have an existing WordPress website you need to have expertly maintained, Creative Mindscape can help. We host and maintain websites across a range of sectors, meeting precise guidelines, SLAs, and budgetary requirements. Our rolling 3-month support options ensure your website is always up to date, online, secure, and backed up. We use reliable tools to monitor your website performance to ensure its constant health and uptime. Maintenance starts at $35 per month, and we have several very flexible options.

Redesign for WordPress

Do you have an old website build by someone else, using a framework you don't understand or cannot update very easily? If you want to migrate your existing website to WordPress, let us help you. As the most versatile, best supported and easy to use CMS platform available, we know it is the best choice for modern businesses, and we have helped hundreds see the powerful benefit of a WordPress website migration.

Website Auditing

Your business may have a website, but is it delivering traffic? Running optimally? As secure as it needs to be? These are just three of the many questions that a website audit will answer. Creative Mindscape offers website auditing services that provide clients with total peace of mind about the state of their digital home. If you currently don't perform an audit, or you use an agency that does not offer this service, then you should consider having an independent audit performed. At the very least, it will give you insights into how you could improve your websites visibility and performance.