Snapchat. Instagram. Pinterest. Twitter. Facebook. Google+. LinkedIn. WordPress. Blogger.
It feels as though every few months a new channel crops up promising digital marketing professionals that it is the golden ticket for gaining leads and converting leads to customers.
It's easy to get caught up in what's shiny and new. The problem with this is that it can cause you to get spread too thin and miss out on marketing in the best place for your business.
Do you want to spend 40 hours a week updating 349,483 social networks every day? I didn't think so.
It's natural, though, to want to make use of trends and to hop on a bandwagon that's working for other brands. Before you sign your business up for another channel, ask yourself: Is this really going to give me a great return on what time and money I have to put into it?
It's far better to put in your time and energy on a few channels than try to keep up with every new social network that comes along.
Where is your target market hanging out?
I'm not talking about the people who will read your content. Finding people to do that is all well and good, but what you really want are the people who will see your content as a means to making a decision to hire your company or purchase your products.
You want to find where the folks who will convert from readers to customers hang out.
Thus, a lot of the answer to the title question lies in determining where your target market is, knowing your market, and understanding the types of content that are likely to trigger a purchase or inquire reaction from that market.
You're going to have to do a little bit of research. You need to know who will be the one paying for your products and services, who or what influences that decision, and who your consumer base is.
If the person who will ultimately be influencing the CEO that she needs to purchase your software to make accounting super-easy is on Twitter when making software-purchasing decisions, that's who you need to talk to and where you need to be active.
If, on the other hand, you know that the college student is going to want your note-taking and studying app, you'll likely want to do Snapchats demonstrating what it can do.
Know the strengths and weaknesses of social media channels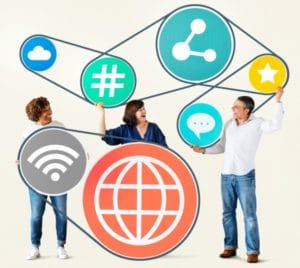 In addition to knowing who your target audience is and where your target audience hangs out online, you also need to know what platforms are best for what types of activities?
If you don't have a lot of visual content, Instagram and Pinterest may not be the best channels for you to focus on.
Likewise, if you're focusing on business to business marketing, LinkedIn is likely to give you the biggest return on your time-investment. If you're looking to engage with potential customers, Twitter can be an excellent forum for that.
Facebook can have a lot of reach – if your company has a budget to use and can boost posts so that they can be seen.
Consistency is key
One of the reasons you don't want to spread yourself too thin when working on your digital marketing efforts is that it makes it very difficult to keep your efforts up.  It is much better to be consistent in blog posting, tweeting, and updating LinkedIn than it is to be on every social media platform and posting sporadically.
In fact, trying to do everything is the surefire way to make sure that your time spent marketing is for naught.
According to Jerry Ascierto in The 7 Best Social Media Channels for Business Marketing, you want to try to keep your time spent on social media marketing to about an hour each day. If you have too many channels, you're likely to be spending far more than an hour each day.
Looking at the big six and beyond
Outside of email and blogs, the best places to concentrate your efforts on social media and content marketing are:
LinkedIn – This platform is known for professional networking. It is the best platform for companies wanting to market to other companies. Their targeted ads are also among the most successful. Finally, groups can offer a great opportunity for industry professionals to demonstrate expertise and show how they can help solve problems for potential customers and clients.
Twitter – This is a great place for companies that want to share brand updates and have a conversation with their audience. Companies that are offering B2B products and services may find that they have a better return on investment here.
Facebook – Your largest potential audience is on Facebook, but this can be the most difficult channel in which to get your message in front of your target audience. If you have the money to invest, though, you'll find that their targeted advertising works really well for getting your brand in front of a large audience.
Instagram – This visual-based platform is great for those with products to share or services offered that produce results that can be photographed. Instagram has a lot of potential when it comes to engaging directly with your audience. If you don't have a business that has a lot to photograph, it may be better to skip this one.
Pinterest – Another visual-based platform, this is best for those marketing to women. While much of the successful content on Pinterest is related to domestic life (DIY, recipes, fashion, etc), any brand targeting women that also has a visual product will do well on here.
Snapchat – The best way to reach generation Z. Create a buzz about new products or services. Snapchat ads are particularly effective, gaining "twice the visual attention of Facebook and 1.5 times more than Instagram" according to Hootsuite.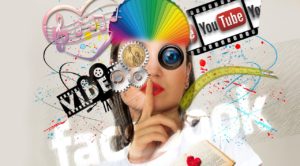 Beyond these six, your business may find the following social networks are key to building an audience:
Yelp – This network allows users to review businesses. It's one of the key places you want to be listed on if you run a restaurant or hotel, but professional service providers also do well to ensure that they are listed on this network.  Financial services and accounting firms often do well to be visible here.
YouTube – Software and tech providers can benefit from tutorials and videos talking about their products and services.
SlideShare – Use this tool to create presentations and digital brochures, then share your SlideShare on other platforms.
Medium, Tumbler, StumbleUpon, Google+, Reddit, etc. Don't overlook these less popular platforms if your research indicates that the audience you're trying to reach uses them. Don't spend a lot of time on these channels, but maintain a presence on them.
So, which platform will give the best return on investment?
The truth of the matter is, content marketing only returns what you put in. If you can't keep up with six channels, keep up with the one or two where most of your target audience will be.
By following the advice to spend no more than an hour a day on social media, you will have more time to spend on your blog content. And you'll want to do that: The Content Marketing Institute reports that blogs that publish 16 or more posts per month get almost 3.5 times the traffic of those publishing 0-4 articles per month.  Marrying a smart social media effort with a strong content creation effort produces the best long-term results.
Ronda Bowen is VP of Editorial Services at Creative Mindscape. She also provides editorial consulting services to a variety of businesses and individuals, runs a handful of blogs (including WiningWife®), and serves as Fundraising Director for JB Dondolo, Inc. In her downtime, she's a distance runner, a foodie, a wine and coffee aficionado, seamstress and crafter, and board game enthusiast. Learn more about Ronda's various projects on her website.