You've been working hard on your SEO and think your efforts are finally paying off. But how can you be sure? Have you noticed a significant increase in website visitors and/or are your online sales/ inquiries at all-time highs?
The bottom line is that it's very difficult (if not impossible) to completely track the success of your SEO campaigns without data. Fortunately for you, there's a treasure trove of data available in the form of Google Analytics to help you understand exactly what's been happening on your web properties.
[Related reading: The New Google SEO Guide: 5 Key Points To Know]
First released in 2005, Google Analytics is Google's proprietary web analytics platform and it's showing no signs of aging. In fact, Google has recently announced four major updates for its analytics platform, each of which is designed to afford even more in-depth analyses and insights.
You can read more about these four updates in this informative post from Search Engine Watch.
If you haven't got Google Analytics up and running on your website yet or you still don't have enough data to make the reports outlined below intuitive, don't worry. That's because Google has a demo Analytics account you can play around with to help familiarize yourself with the platform and its GUI – access Google Analytics demo account.
The demo account linked above is also what I've used for the screenshots provided below.
1. Organic Search
There's no better place to start than with your website's organic search traffic. After all, that's likely to be one of the primary goals of your SEO efforts.
Click on 'Acquisition' – 'Overview' in the left-hand pane to see a top-level overview of your website's main traffic sources.
You'll see the various sources of traffic e.g. 'Organic Search', 'Social', 'Direct', etc. From here, you can drill down further into the Organic Search sources by clicking 'Organic Search' in the table below the chart.
Changing the Primary Dimension from 'Keyword' to 'Source' will show you a breakdown of organic search traffic coming from the various search engines. Bounce Rate is an important metric here as it can help identify pages that are underperforming and seeing users bounce without hanging around.
2. Mobile
Having a mobile-friendly website is an absolute must today, especially when you consider that Internet usage on mobile devices exceeded desktop usage for the first time ever in October 2016 [source: StatCounter].
[Related reading: Why A Mobile-Friendly Website Is A Must For Businesses Today]
To quickly see how many people are accessing your website on a mobile device, click 'Audience' – 'Mobile' – 'Overview' in the left-hand pane.
This view is particularly handy because it not only shows you the bounce rates for mobile users on your website but also the conversion rates. A high bounce rate might suggest you need to tweak your web pages to better cater for mobile users, while conversion rate will indicate how valuable mobile traffic is.
3. Site Speed
Internet users today are a particularly fickle bunch, and if your website is slow it could very easily cost you in terms of traffic – especially for mobile device users.
The great thing about the Google Analytics' Site Speed report is that it enables you to identify any web pages in particular that are performing slowly. You may notice a higher bounce rate associated with these web pages, which is why you need to address the reasons behind their slow performance.
To access the Site Speed report, click 'Behavior' – 'Site Speed' – 'Overview' in the left-hand pane. Subsequently clicking on 'Page' in the table below the chart will show you your best and worst performing webpages when it comes to speed.
4. Site Search
Many websites nowadays incorporate a search facility that visitors can use to, well, search for stuff. But do you know what your visitors are actually searching for? You can find out with the Site Search report.
To access the Site Search report, click 'Behavior' – 'Site Search' – 'Search Terms'.
The real benefit of this particular report is that it enables you to identify any pages or products that people are having difficulty finding – hence their use of the search facility. It may be necessary to give these pages or products their own link from your homepage or make finding them more intuitive.
Secondly, the Site Search report might also show search terms that have no associated page or product. This could identify an opportunity for you to create one and better satisfy your visitors' searches.
5. Conversion Goals
So you've got plenty of organic traffic. That's great! But is it converting as you want it to? The Conversion Goals overview will show you this information.
This is particularly powerful for businesses with an eCommerce aspect to their websites and/or landing pages that are designed to capture a visitor's email address or other contact information.
First, click on 'Conversions' – 'Goals' – 'Overview' in the left-hand pane. You'll now see a breakdown of the conversion types you are tracking.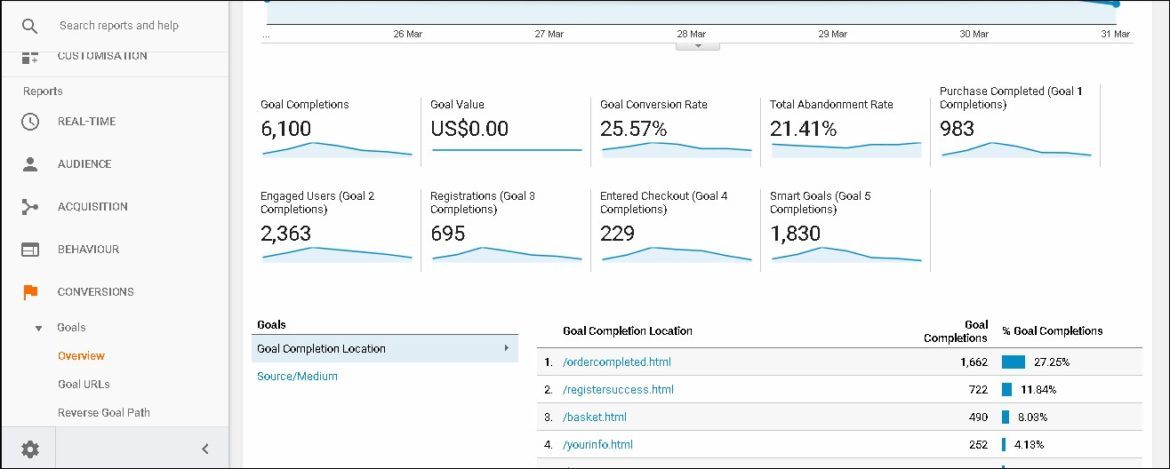 Using the Google Analytics' demo account, we can see that they have set up various conversion goals, such as 'Purchase Completed', 'Entered Checkout', etc.
An especially insightful aspect is to determine how much of your organic traffic is converting. To see this, click on 'Source/Medium' in the table below the chart and look for data that mentions 'organic' as opposed to 'referral'.
6. Duplicate Page Titles
In an ideal world, all your web pages would have unique page titles. However, as websites grow and become more difficult to manage, this isn't always easy or possible.
Fortunately, there's a report in Google Analytics that helps you identify any duplicate page titles on your website. To access it, click 'Behavior' – 'Site Content' – 'All Pages'.
Now if you change the Primary Dimension to 'Page Titles' you can see all the page titles being used on your website. If you click on a particular title it will bring up a list of pages that use said title, allowing you to quickly identify any that might need to be changed.
Like I've already said, you ideally want a unique title for each page and it's definitely worth taking the time to amend any duplicates once you've outlined them using this report.
7. Geographic Report
If you're a local business, a lot of your SEO efforts will (I hope) be focused on attracting people in your local area. But from which countries are the majority of your visitors from?
Simply click 'Audience' – 'Geo' – 'Location' in the left-hand pane to access the Geographic report.
Hovering your mouse pointer over the interactive map will provide you with the number of users originating from that particular country for your chosen time frame.
Unless you're a multi-national company, don't worry if the map doesn't look the same as the one in the Analytics' demo account.
8. All Pages (and Landing Pages) Report(s)
Want to know how many times your web pages feature in Google search results? The All Pages report shows you this and much more. You can access it by clicking 'Behavior' – 'Site Content' – 'All Pages' in the left-hand pane.
You'll notice that your pages are ordered by 'Pageviews' by default. This helps you identify your best-performing pages (if you don't know already). There's even a 'Page Value' column in the table, which uses conversion data to show which of your pages are adding the most value.
If you want to focus just on your landing pages, click 'Behavior' – 'Site Content' – 'Landing Pages' in the left-hand pane. This is useful for identifying which of your web pages people are seeing first when they land on your website.
Now I've only covered eight Google Analytics SEO reports above, but there is an absolute abundance of other data you can leverage within the platform. I suggest you play around with the data available and see what's valuable for you and your business. You can then create and customize an Analytics dashboard to suit your preferences, making seeing what you want seamless going forward.
I'm a full-time freelance writer and Managing Editor at Creative Mindscape who is lucky enough to call the tropical paradise that is the Philippines my adopted home. In my spare time, I love to dabble in cryptocurrencies and play with my three young children. One's a stressful, non-stop rollercoaster ride; the other is cryptocurrencies.