There are a lot of apps useful for creating ebooks. So many, in fact, that it can be overwhelming to navigate through all the different ones to determine what might be the best ebooks creation tools to use.
Here are some of the most reliable and easy-to-use apps available, organized and grouped by stage of ebook creation:
Pre-Writing and Research
Writing
Ebook Design
Formatting for Publication
Pre-Writing And Research
When you're just jotting down your ideas and outlining what each section of your ebook will contain, these tools can serve as just the workspaces you need.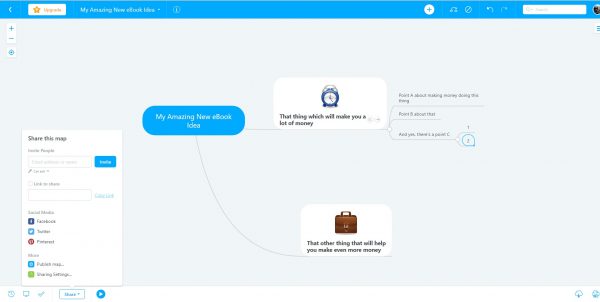 MindMeister is mind mapping software that you can use on your own or that you can use with a team. It's a great tool for when you want to brainstorm new ideas, outline parts of your ebook and see how they fit together, track bits of research, etc.
You can create a slideshow with your mindmap if you need to present your idea to a team.
It's also a great beginning-stages tool for those with co-authors, as all parties can input their brainstorms and add comments, images, notes, and links to the various nodes on the map.
The basic version is free; paid versions are $4.99 per user per month for a personal account, $8.49 per user per month for a pro account, and $12.49 per user per month for a business account. You can also use MeisterTask, the sister app, to manage tasks you create in MindMeister.
Evernote and Microsoft OneNote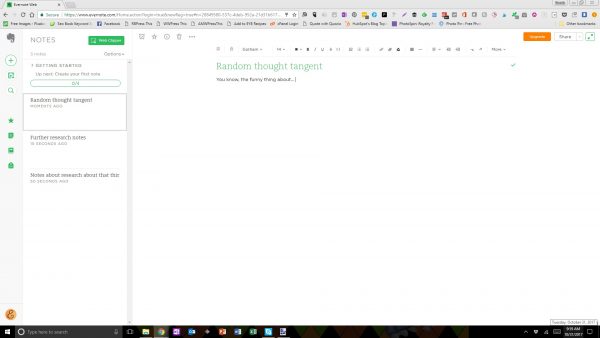 Evernote is a digital notebook where you can take notes, clip web articles, and leave things for when you need them. Microsoft OneNote is very similar. Both programs allow you to organize your thoughts and research into notebooks and pages.
OneNote offers a third level – notebooks, sections, and pages. OneNote is part of free including the collaborative aspects of it; the basic version of Evernote is free.
Paid options of Evernote include more collaboration tools and more storage options. Both programs back your work up to the cloud, so that should something happen to your computer, not all is lost when it comes to the work you've stored in them.
Which one is best for your needs comes somewhat down to personal preference with the user interface and what level of tools and collaboration you need for your ebook project.
Writing
There are a number of writing tools. What you want to use is going to depend on personal preference and need.
Some people need to write free from distraction; some people prefer apps that are familiar to them, even if it means that there is a lot going on with regards to the menus and features. Here are the best of the best when it comes to writing tools.
Microsoft Word
While Google Docs are certainly useful in their own right, Microsoft has stepped up its game with its software apps, making it easier to collaborate if you need to using Office Online.
Microsoft Word has a lot of features and capabilities, though, and there are a lot of auto and manual tools for creating menus, bibliographies, and footnotes that make it a powerhouse word processing app.
If you need a little help getting started, check out this tutorial: Tips For Creating Ebooks With Microsoft Word
Microsoft PowerPoint
While many create their ebooks using Word, others use PowerPoint to create beautiful easy-to-read ebooks. This software is particularly popular for content marketers because it forces writers of ebooks to write and design pages for those who will be reading on screens rather than those who will be writing in print.
When using PowerPoint to create your ebook, you can also design your ebook as you go, rather than trying to format it after you've finished.
Scrivener has been around for a little while. It's a writing app that allows you to organize your writing by its parts – making it great for pre-writing and outlining, and then you can write directly in the various notecard parts to fill in your chapters, chapter sections, etc. You can then view what you've written as one cohesive body.
You can shuffle things around, so if you find that Chapter Four should really be subsection three of Chapter Two, that's easy for you to do without having to copy and paste. Research, notes, and text can all live side by side in this handy writing app meant for those creating large documents.
If you need a distraction-free place to help you get into the writing zone, Ommwriter may be just the app you need to help you write your ebook.
When the graphic interface is combined with headphones, it helps users to get into a space where it's easier to focus and create the textual body of your ebook.
You can select different environments, typefaces, and music to help set the mood for the content you need to create. It's free to try the program, and at least $4.64 to purchase a copy of the program for your device (they ask that users determine the value of the program for themselves and then pay what they believe the program is worth).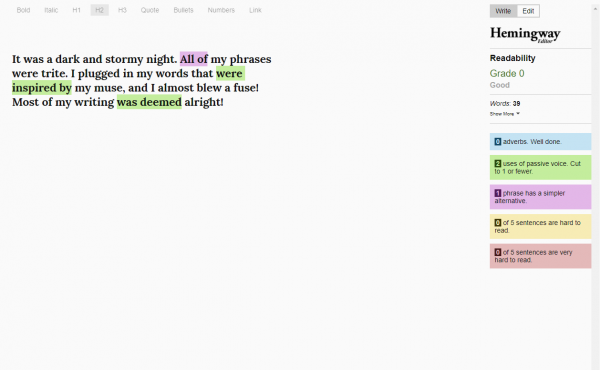 If you tend to be verbose, Hemingway will help you out. This editing program will highlight adverbs, passive phrases, phrases that could be made simpler for easier reading, and hard and very hard to read sentences. Making use of this app is great for ebook writers because it helps users to create concise, easy-to-read on a screen content.
Creating reader-friendly content for your ebook project helps readers to use the content you produce.
Ebook Design
Creating a beautiful ebook is as important as creating an ebook that is useful to your audience. In fact, you don't have to use Adobe's creative suite (Illustrator, Photoshop, InDesign) to create a visually stunning ebook.
While these tend to be the standards when it comes to graphic design, the following Apps can help you easily with cover design and creating images in your ebook that really stand out.

Canva is a great program for people who really are not graphic designers at heart. This app makes it easy to create book covers, blog title images, social media posts, and more quickly and easily. You can plug in your own graphics, screenshots, photos, etc. The tool will show you when image elements are lined up, helping you to easily create good-looking materials.
You can save in a variety of formats, including pdf, jpg, and png. Use the free version or sign up for the work version for $12.95 per month and get more templates, more photos, custom branding, more storage, and more.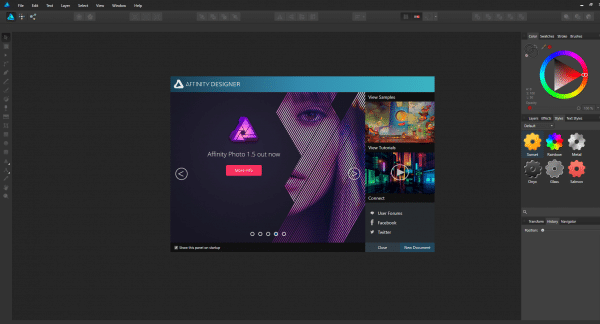 Serif's Affinity Designer is a great program that combines the features of Adobe's Photoshop and Illustrator into one program. Affinity Designer opens both Photoshop files and AI files. It has a powerful interface that allows users to do a lot.
Edit photos, create logos, use vector drawing techniques. Affinity Designer allows users to create stunning visuals. The program is available for $49.99.
Its sister program, Affinity Photo, costs the same and adds even more versatility for users. Create a beautiful cover for your ebook using this program.
In the works is Serif's Affinity Publisher, a program meant to replace their legacy program, PagePlus X9. Users preferring the graphical interface of Serif's products can still use PagePlus X9 for $24.99.
There are also online tutorials for the Serif programs, making it easy for novices to quickly learn how the programs work.
Visme is primarily a tool for creating infographics, but its flexible design tools make it detail for creating ebooks, too.
Visme is especially nice if you want to include charts and graphs in your ebook — there are lots of beautiful templates to help you showcase your stats. In fact, there are a lot of great templates for everything from infographics and presentations to web and social graphics.
Formatting for Publication
Once you've created your ebook, you need to make it so that people can read it on their devices. While you can publish your ebook as a pdf or using Amazon or Apple's publishing apps, there are a couple more formatting apps that make putting your ebook into e-reader friendly format a breeze.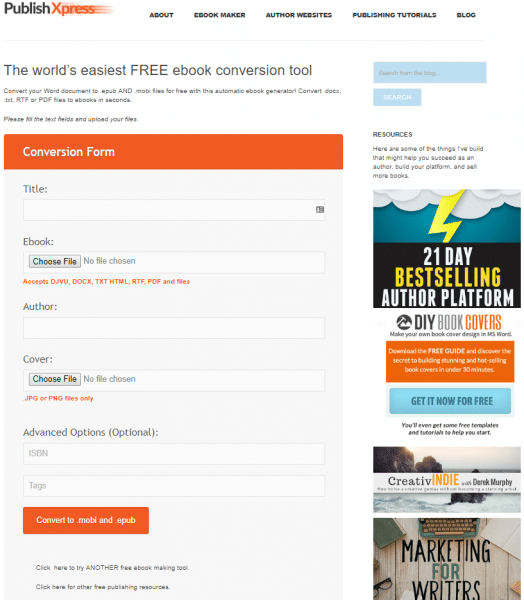 PublishXpress is a free ebook tool that allows users to convert their ebook documents into .mobi and .epub formats to make them e-reader friendly.
Users can assign an ISBN to the book and tag it to make it easy for people searching for an ebook on your topic to find it. The program is quick and easy to use. It is also free to use. It does, however only save these two ebook formats.
Calibre is the classic tool that a lot of people use for creating ebooks. The program allows users to manage their ebook collection, edit ebooks, and convert formats for ebooks from one format to another.
This is both a helpful tool for ebook developers and ebook readers.
Ronda Bowen is VP of Editorial Services at Creative Mindscape. She also provides editorial consulting services to a variety of businesses and individuals, runs a handful of blogs (including WiningWife®), and serves as Fundraising Director for JB Dondolo, Inc. In her downtime, she's a distance runner, a foodie, a wine and coffee aficionado, seamstress and crafter, and board game enthusiast. Learn more about Ronda's various projects on her website.